Complex, professional WordPress themes can be hard to understand. Especially if you are a WordPress beginner, written setup instructions may soon ask too much of you. That's why REAL Premium Themes like
the great affordable designs of ElegantThemes
c
ome together with a sample content xml file: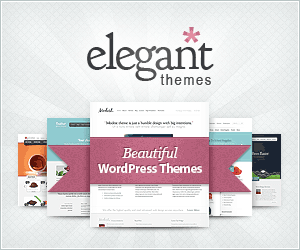 ElegantThemes provides more than 80 themes for just $39 – that's less than 50 cents per WordPress Theme. I'm using their designs for years now and I'm happy to know them.
Give them a try!
Using the xml file they provide will give you the exact copy of the theme demo (preview). From there, you can start digging into default posts, pages, categories, menus, widgets and so on. With this working sample on your own server, you will soon learn how to get your own site and content running.
Good news: Following these steps will only take you a few minutes. It can all be done some simple clicks and withour touching any code. Promised!
Preparations
Here we go. First of all, make sure you have:
A default, fresh WordPress installation (How to get & install WordPress?)


Your WordPress Theme (= a zipped file)


The sample content file (= a non-zipped .xml file). If it is provided by the designer, read the theme documentation where to get this file.
Trash the WordPress default content
WordPress comes with its own default page, post and - since WP 3.3. - widgets, which would conflict with the sample content. So, we have to
trash the WP default page and post first
:
Now remove the WordPress default widgets too. Go to Appearance/Widgets and
drag&drop them out of the box(es)
. All boxes (right side) should be empty.
Your Appearance/Widgets screen should no more contain any widgets:
WordPress Theme Installation
Now we'll install the WP theme. Go to Appearance/Themes first:
Click "Install Themes" on top right:
Click "Upload":
Choose the upload file and install it.
ATTENTION
: The WordPress Theme itself is a zipped file that contains another folder with files like style.css, index.php, header.php, footer.php and so on.
Make sure you select the zipped theme itself and not your main download folder
. Often you get a download that contains big (BIG!) PSD (photoshop) files, help directories and the actual zipped theme (= the only one you should upload). If there's such a superior main folder, uploading this .zip might not only take hours, but will certainly result in "missing stylesheet" error messages.
Activate your uploaded WordPress Theme.
Import the sample content
To avoid blowing up the default WordPress file size, the import tool is not included in WordPress by default. Good news: you can install it with a few simple clicks.
First, go to Tools/Import:
Select "WordPress" for import:
Now, install the WordPress Plugin "Install Importer". Ignore compatibility warning messages. Clicking "Install Now" is all it takes. Easy, right?
Activate the plugin and run the importer:
Now, choose the sample content file and upload it. Don't select a .zip or unzipped folder. The demo content is always a file with a .xml extension, f.ex. sample-content.xml.
On the next screen, check the checkbox "Download and import file attachments". That's it. Click "Submit" and get a coffee. The process of installing the sample content involves downloading images and other files from the installation source, which is often the theme preview installation of the theme provider. Don't interrupt the process. Better get some coffee ;)
If everything went right, here's what you'll see:
Activate the default menus
The last step: Go to Appearance/Menus and activate the default sample menus that are included in the sample content. Unfortunately, WordPress doesn't import this setting. So you need to consult the theme documentation or just give it a shot. Choose the menus in the dropdown and hit "Save". That's it!
Now you should have the exact copy of the theme preview. If not, blame the designer not me ;)
As WordPress says: HAVE FUN!